DEDICATED TO VEGAN & SALAD L♥VERS 
At Redland Village Market, you can shop the freshest variety of fruits, vegetables and more which also supports our local farmers. This edition of Cooking with Redland is a mediterranean, vegan recipe for a Spanish salad called Pipirrana.  Officially kick off the summer with this refreshing, tasty salad that's full of vitamin C, fiber and antioxidants. It's quick to make and can be enjoyed alone or at your next get together. In fact, it is a perfect dish to bring and serve on the upcoming 4th of July holiday! Make a shopping list and buy local with a quick trip to Redland Village Farmer's Market.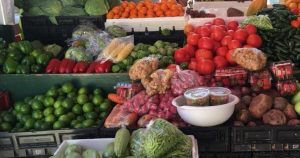 ---
---
Summer Spanish Salad – Pipirrana  Ingredients

2 large tomatoes

1 large cucumber

1 medium onion

1 large green pepper 

2 cloves garlic minced 

A pinch of cumin

1⁄2 teaspoon salt

3 tablespoons extra virgin olive oil 2 tablespoon red wine vinegar
---
---

Directions
Chop the onion into small cubes and soak in water.

Chop the tomatoes, cucumber and pepper and place in a bowl.

Drain the onions and add them to the rest of the vegetables.

Place the garlic in a mortar with a pinch of cumin and a pinch of salt and a few drops of olive oil until you have a paste. In another small bowl mix the rest of the olive oil, vinegar and salt, add the garlic paste and mix well.

Add the dressing to the salad and mix well. Cover and refrigerate.

Serve chilled with bread or rusks.
                                                     …Enjoy!!!
That's it for now but stay tuned to our next recipe and meanwhile make sure to check out more awesome Cooking with Redland Recipes below:
https://redlandmarketvillage.com/argentinean-asado/
https://redlandmarketvillage.com/cooking-with-redland-avocado-lime-salad/