Dedicated to all the Avocado Lovers 
At Redland Village Market, our Farmer's Market offer a variety of fresh fare delivered daily from local farmers. The month of May marks the start of the peak season for avocado's so our newest Cooking with Redland blog entry is a recipe for Avocado & Lime Salad. It's a fresh flavorful salad that could easily double as a yummy dip. The majority of ingredients you will need can conveniently be purchased at your next trip to Redland Village Farmer's Market! Have fun with the recipe by adding your own favorite spices and flavors to make it your new speciality dish for every occasion!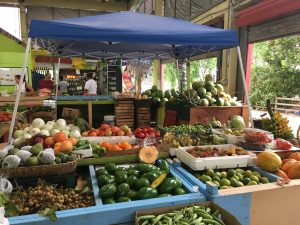 ---
---
Avocado & Lime Salad

 Ingredients
2 Avocados chopped 
1 Package of cherry tomatoes – sliced in half
2-3 ears of corn kernels – shucked & cut along the cob
Cilantro ~ amount depends on your preference but we think the more the merrier
Juice from 2-3 limes
Salt & Pepper – amount depends on your preference
Directions
First Step – Mix all the ingredients in a large enough bowl
Second Step (and most important part) – Ready? Set? Enjoy!!
*Quick Tip – You may want to double the ingredient list to make sure you have enough to serve since it's so delicious and may be devoured quite quickly
---
---
That's it for now but make sure to check out more awesome Cooking with Redland Recipes below: