Fabulous Fruit Salad
Redland Market Village is happy to help provide you with recipes and inspiration for new and yummy dishes to help breathe new life into your everyday cooking routine. This recipe is perfect for embracing the freshness of the beautiful 

Spring season. It's also consists of an ingredient list full of items all available at our amazing Farmer's Market, making it especially convenient.
Our produce comes from local farms, meaning less travel-time and fresher tastes. Check out all the shopping and saving you can do when you make this Fabulous Fruit Salad that will delight the fruit lover inside anyone!
---
---
INGREDIENTS
2 cups blueberries
2 cups raspberries
1 mango, cubed
1/2 pineapple, cubed
1/2 seedless watermelon, cubed
1/4 cup honey
1 lime, juiced
1 orange, juiced
1/2 cup shelled pistachios, coarsely chopped
Fresh mint leaves, torn, for garnish
---
---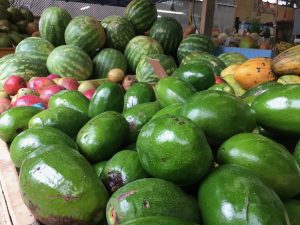 DIRECTIONS
Chop the pineapple, mango and watermelon into bite size pieces. Add the berries and set aside. In a small bowl, mix your orange and lime juice with the honey. Pour this yumminess over your mixed fruit. Just before serving, top with chopped pistachios for a bit on crunch.
Feel free to experiment by exchanging fruits with any of our Farmer's Market exotic selections! Try pecans instead of pistachios too!  Explore our ever-changing market and venture into some new flavor experiences!
---
---