Beyond the bustling outdoor bazaar and enchanting ambiance, Redland Market Village also has over 22 international food trucks located all throughout the marketplace…
One of the distinguishing features of the food trucks at Redland Market Village is their commitment to using fresh and locally sourced ingredients. The farm-to-table approach ensures that each dish bursts with the natural flavors of locally grown produce, adding a wholesome and sustainable dimension to your dining experience.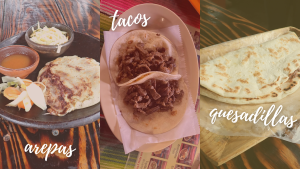 They offer a variety of international cuisine that caters to diverse palates. From savory tacos and authentic Venezuelan arepas to spicy Thai curries and mouthwatering BBQ, there's something to satisfy every craving and culinary curiosity. These authentic central/south American foods are what enable visitors to immerse themselves in the rich culture of Latin America, Asia, the Caribbean, and so on.
Outdoor Dining with a View
The open-air seating arrangements around the food trucks make for a charming and relaxed dining experience. Enjoy your flavorful meals amidst swaying palm trees and the delightful ambiance of the market. Whether you're dining with friends, family, or even solo, we offer a convivial setting that enhances the overall experience.

Socializing and Community Vibe
The food trucks at Redland Market Village attract locals and tourists alike, fostering a sense of community around the shared love for good food. Strike up conversations with fellow food enthusiasts, swap recommendations, and share your joy as you savor delectable dishes together during your next visit.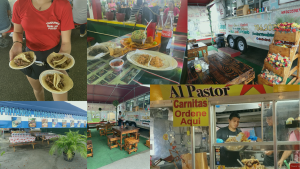 Visiting the food trucks at Redland Market Village in Miami is not just a culinary experience— whether you're a seasoned foodie or eager to explore and try new things, the yummy food trucks at Redland Market Village will leave an indelible mark on your taste buds and heart.