An idyllic country with extensive mountain ranges and miles of coastal beaches, Mexico also is home to beloved cuisine. Men and women who want to create a taste of Mexico in their own kitchens can consider this recipe for "Spicy Steak Tampico" from Kelley Cleary Coffeen's "200 Easy Mexican Recipes" (Robert Rose).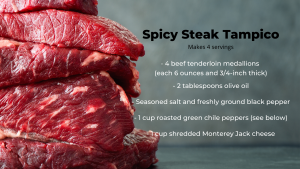 1. Brush steaks thoroughly with olive oil. Season with salt and pepper.
2. Place medallions on preheated grill, close lid, and grill, turning once, until an instant-read thermometer registers 145 F for medium-rare, 5 to 8 minutes per side. Transfer to a plate, tent with foil, and let stand for 10 minutes.
3. Preheat broiler with rack 3 to 4 inches away from heat. Place steaks on individual ovenproof plates. Top each steak with equal amounts of chile and cheese. Broil until cheese melts, about 2 minutes. Serve immediately.
To roast chiles: Preheat greased outdoor grill to medium or preheat an oven broiler. Place fresh chiles on outdoor grill or gas stovetop over medium heat or arrange on a baking sheet and place 2 to 3 inches away from heat under broiler. Grill or broil, turning often with tongs, until surfaces of skin are lightly charred and blistered. Immediately place peppers in a paper bag or an airtight container and close tightly. Let peppers cool for 12 to 15 minutes. Peel off charred skin and remove stems and seeds. Tear into strips or chop as needed according to the recipe. Wash your hands thoroughly after handling chiles. Refrigerate peppers for up to 3 days or freeze in airtight container for up to 6 months.