DEDICATED TO THE CHORIZO L♥VERS 
For this edition of Cooking with Redland we've chosen to cover a traditional Spanish pork sausage called chorizo. Along with a brief background we've also included a recipe to help you start cooking with chorizo right away! It's quick and easy to work with making it an ideal ingredient and addition to your next family meal.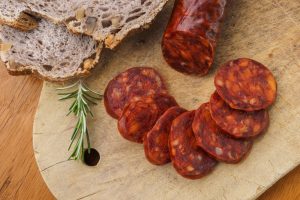 Chorizo is a traditional favorite in places like Spain, Portugal and Mexico but the way it is made and served will always vary based on the location you are in. The ingredient combinations used to make chorizo are endless! Depending on where you are some of the mixed in ingredient options are garlic, paprika, sweet and hot paprika, black pepper, chiles, coriander, ginger, cloves and dry white wine. Chorizo comes dry-cured, meaning ready to eat and uncured, meaning it must be cooked prior to eating.
Below is an awesome recipe for Mexican chorizo which is uncured. Based on what you learned above you now know that uncured means that it's raw sausage needing to be cooked first. You are already learning so much! Good job!
Homemade Mexican-Style Chorizo
Ingredients
-2 pounds pork (finely ground)
-4 tablespoons chili powder (ground dried chile pepper)
-2 tablespoons ground paprika
-2 tablespoons dried oregano
-1 pinch ground cinnamon
-1 pinch ground cloves
-1 teaspoon ground cumin
-1 teaspoon salt
-2 cloves fresh garlic (crushed)
-1/2 cup vinegar
Directions
Gather the ingredients.
In a large bowl, use your hands to mix the ingredients until they are well combined.
Use immediately in your favorite recipe calling for Mexican chorizo, or refrigerate or freeze the sausage in an airtight container for later use.
When you're ready you can use/add Mexican Chorizo to soups, taco or burrito filling and even scrambled egg!
Enjoy!!
That's it for now but stay tuned to our next recipe and meanwhile make sure to check out more awesome Cooking with Redland Recipes below:
https://redlandmarketvillage.com/cooking-with-redland-pipirrana-spanish-summer-salad/
https://redlandmarketvillage.com/argentinean-asado/
https://redlandmarketvillage.com/cooking-with-redland-avocado-lime-salad/
Recipe Courtesy thespruceeats.com