Make School Shopping Affordable & Fun
As we wrap up the last few weeks of Summer we want to help make back to school as easy and affordable as possible! This Edition of Trip Tips features Top 3 ways and reason to school shop, save money and have fun as a family with one trip to Redland Market Village!
The fact that you can shop the flea market and farmers market in one trip is one example of how convenient & time-saving Redland Market Village can make life!! You'll never see back-to-school shopping the same way with these tips to reduce the costs and stress!
Make It Memorable:
As parents it is easy to be eagerly awaiting school to resume for many different reasons. If you have many kids it can be a huge relief to get back to a routine. This also means you can forget to stop and take time to cherish some quality time with them as they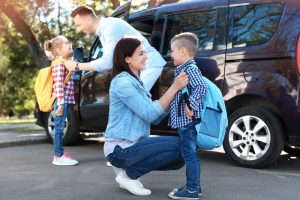 get another year older. It may seem far off but before you know it back-to-school shopping won't come around and you miss it!
Your children will already want to come along on the trip so they can help hand pick their back to school shopping supplies. This year, no matter what age they are, do your best to appreciate them and remember the value of bringing the kids to the Flea Market. At Redland Market Village you can stop by our Kid Zone where your kids will be extra thankful you brought them with you!
2. Make It Customized:
Consider how many cool parent points you can win when you provided your kids with "One of a Kind" school supplies! The Flea Market Vendors sell so many amazing items, many handmade and will not be available at the local chain store all the other parents shopped at.
For school supplies keep an eye out for vintage, unique finds that you can easily repurpose and customize. Help your kids stay excited by asking for their spy or detective skills to scoop up the perfect DIY item that they will cherish more than the same pencil box or bag as every other student! Grab glue, puffy paint and some ideas off Pinterest and you're all set!
It's a win-win when you consider the money you saved and the exclusivity of the supplies are for your son or daughter (or both). Your kids can go back to school with major bragging rights to the 'Speciality Store" their parents bought their shoes, shorts, dresses, accessories and more! Spread your budget farther while they still making them look and feel like a million bucks!!
3. Make Healthy Food Habits
Last but least is how lovely it is to make the last stop on your Redland Market Village trip at the farmer's market. At the Farmer's Market you are again on a win-win streak by supporting local farmers, supporting eating healthy, fresh foods all at affordable prices!! Stock up on afterschool snacks like fruits and vegetables plus ingredients you will need to help pack healthy lunches.
We hope these tips will help you have fun getting the most of your time and money when shopping for back to school supplies at the local flea market! Hopefully your entire family will now be inspired to be the sharpest looking kids on the first day of school!!
BONUS TIP: When it comes to preparing for back-to-school for the home try buying something to repurpose of your own. Look for a great frame you can turn into a "Student Spotlight" to showcase your kids good grades. Especially helpful for those parents with multiple kids who may run out of room on the fridge! Check out our blog post about perfect flea market find for interior design to help with examples!