In the minds of children and even many adults, Halloween is one of the best days of the year. Youngsters love to dress up as monsters, beloved television characters or superheroes in the pursuit of candy, while their parents often enjoy some Halloween fun of their own.
Celebrants might not have the environment in mind come October 31, but there are a handful of opportunities for all those participating in Halloween festivities to make their celebrations more eco-friendly.
• Hand out locally-produced treats. Candied apples can be found at Halloween parties, and some people
even give them out to trick-or-treaters. When buying apples that will ultimately be transformed into candied confections, buy your apples from local farmers. Locally produced apples did not have to travel far, reducing the fuel needed to go from farm to table. And locally produced apples may taste fresher than those shipped from far away, making this beloved dish even more delicious.
• Exchange costumes with neighbors. Rather than buying new costumes each year, parents can save money and help the planet by exchanging costumes each year. Halloween costumes are typically worn just once, which is wasteful when considering the amount of materials, energy, and packaging required to produce and sell such costumes. Homemade costumes also are less wasteful, as parents won't have to package such getups in potentially harmful plastic.
• Clean up throughout the evening. Trick-or-treaters are many things but are not likely to be conscious of the trash they produce as they sneak candy bars here or there during their travels. Candy wrappers and other litter can quickly accumulate on Halloween. Unless this trash is promptly picked up, it may ultimately find its way into drainage systems and nearby waterways. Sweep up throughout the evening to keep lawns and driveways clean and protect the environment.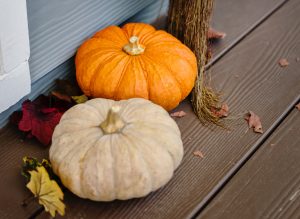 • Add pumpkins to compost piles. Pumpkins, and jack-o'-lanterns, in particular, are symbolic of Halloween. But pumpkins deteriorate rather quickly, and homeowners might be quick to simply toss them into the garbage with the rest of their trash. But pumpkins can make great additions to compost piles. Before adding pumpkins to your pile, remove any seeds from inside the pumpkin, as lingering seeds may germinate within the pile. In addition, remove any decorations and lighting from the pumpkin, and do not add pumpkins that have been coated in preserving sealant to your compost pile. Halloween might not inspire celebrants to be eco-friendly, but there are ways to have fun and protect the planet at the same time.