Have you ever been halfway through a pile of goods at your local Flea Market and realized you were getting such a good deal that you may have tapped into a potential source of income? Flea Market shopping is full of bargains and with the right frame of mind you may have found an item with a margin for profit! As a smart, savvy Flea Market shopper what more beneficial way is there to flex your veteran negotiation skills? into a  are ways to turn your weekly Flea Market visit into a potential source of income.
It's a bonus to be your own boss and have complete freedom to choose what you would like to flip. Redland Market Village is rooting for you to succeed & turn your weekly trips into significant source of income! Part of the strategy to increase your profit margin is by learning to resell the right items. We have put compiled the top 5 Flea Market finds that can be resold on websites like eBay, Amazon and Facebook!
—————————————————————————————————————————————————
#1 – Clothing & Shoes
There's no doubt that scoring name brand clothing is one of the best Flea Market items to flip for a profit. Many vendor booths offer shoes and clothing, even accessories, from well-known brands at affordable prices. It'll require more time to search but your Superhero Shopper eyes will find the deals.
If you stumble upon a Flea Market Vendor selling plus sized clothes that you can get a good deal with you can use those to resell as maternity clothes. It's not going to necessarily be a hot ticket per sale but there's a major market for mothers to be are stuck with the alternative of pricey store bought clothes that they only wear for a short period of time.
Lastly, another angle to buying and reselling clothing can be for anyone who is in the business of selling customized apparel. These days many people have access to desktop cutting machines like a Silhouette and the ability to buy in bulk is a great Flea Market find!

————————————————————————————————————————————————
#2 – Frames

 
Another resell gem to seek out is frames. There are plenty of Flea Market Vendors who either sell frames by themselves or artwork that's already framed. When it comes to actual artwork be sure to pay attention to the frame and not be discouraged or skip over a potential money maker just because the artwork is not your style.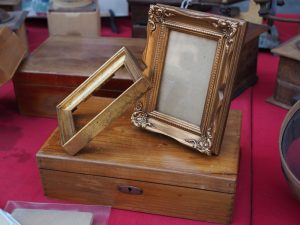 Antique frames are great but remember all the capabilities you have to turn a frame into a custom piece with simple DIY tactics. It can be your opportunity to flex your creative muscle while you're simultaneously flexing those strong Flea Market expert skills! They can be designed and decorated and personally customized. No matter what the market for picture frames is in high demand both on websites and even offline making them an awesome resell item
———————————————————————————————————————————
#3 -Vintage Anything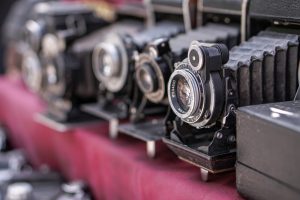 Books – Books are wonderful Flea Market find and resell. Not only are they easy to ship, in high demand and not difficult to score.  Do some research on specific websites to best resell the books on in addition to eBay, Craigslist and Facebook Marketplace.
Mugs – Don't be too quick to dismiss the thought of seeking out mugs as good resell items. You never know what you'll find but be on the lookout for ones featuring well-known characters and cartoons. Before you know it you could have a bought a Mickey Mouse or Superman mug for $1 that ends up selling for $10!
Silver – Always use your sharp eye for just about anything silver including dish-ware, silverware, mirrors, jewelry and more. Regardless of the form it takes just remember it could be a valuable, high profit resell find. In order to fine tune your search & possibly identify true silver is to pay close attention to signs of being tarnished, and checking to hear if it creates a high pitched ringing sound that lasts a couple of seconds.
———————————————————————————————————————————
Don't forget the added bonus of shopping at  Redland Market Village can turn one visit to a one stop shop for fresh Farmer's Market groceries, a vast 27-acre stretch of items for yourself and now items to also make money on! Nowhere else can provide such an incredibly convenient buying experience.