One of the benefits of becoming a skilled do-it-yourselfer is the chance to embrace projects that can breathe new life into objects that others might designate for the trash or donation pile. Renovating such items can save money and provide an entirely different purpose for the object.
After upgrading design styles or moving, there's a good chance the average homeowner has a spare dresser or chest of drawers he or she may no longer use. Repurposing such furniture can make for an enjoyable weekend DIY project.
With a change of color, removal of drawers or a few minor modifications, dressers can be transformed in many different ways. Here are a few ideas to get started.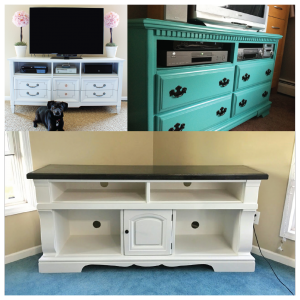 · Television stand: Sand and paint or stain the dresser to match the color scheme of your living room or family room. Remove the top row of drawers from the dresser to have cubby space to house electronics, such as cable boxes or DVD players. The remaining drawers can hold movie collections, spare remote controls, gaming systems, and much more.
· Serving bar: Paint the dresser in an eye-catching shade and make sure to seal-coat it with a finish that is impervious to moisture. If time or budget allows, attach a piece of glass or tiles on top of the dresser to create a water-resistant, strong surface area. Store various serving glasses and cocktail accouterments within the drawers. Place a few bottles of your favorite spirits and a decanter on a decorative tray.
· Storage shelving: Remove the drawers from the dresser and turn it into a storage mecca by using stackable plastic containers in spaces once occupied by the drawers. Keep craft supplies, collectibles or anything else you can think of inside.

· Kitchen island: Small dressers can be repurposed into kitchen islands with a few modifications. Install casters on the feet so it can be moved around when necessary. Place butcher block wood or stone on top so you'll have a sturdy cutting or preparation surface area. Hooks hung on the side can hold frequently used kitchen utensils.
· Changing table: Turn an older dresser into a changing table for a new baby. In addition, add a cushioned pad and some decorative trim to serve as a frame that keeps the pad in place. The drawers will keep wipes, diapers, onesies, and other supplies at the ready.
· Bench: Remove the top drawers from the dresser. Add a piece of plywood to make a seat. Use the removed drawer faces on the inside back of the dresser since this area will now be visible. Paint the entire piece or stain it as desired. Fashion a cushion for the seat, and the bench is ready for an entryway or wherever you have space.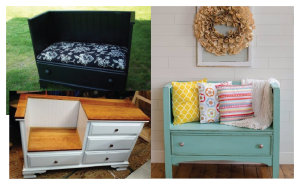 Before discarding an old dresser, think of all the ways it can be transformed into another useful piece of furniture.