Diet and health go hand in hand. Perhaps that's why there's a growing interest in foods that are purportedly curative. Some people even choose foods in the hopes that they can help to reduce symptoms of allergies and inflammation.
As concerns about cognitive decline and diseases that attack the brain and memory grow, some people are seeking critical nutrients that can reduce their risk for Alzheimer's disease and other dementias. While there's no quick fix, consuming a wide variety of fresh, nutritiously diverse, and not overly processed ingredients, like those found in this recipe for "Garden Vegetable Hummus" from "The Brain-Boosting Diet" (Whitecap) by Norene Gilletz and Edward Wein, Ph.D.
Garden Vegetable Hummus
Makes 21⁄2 cups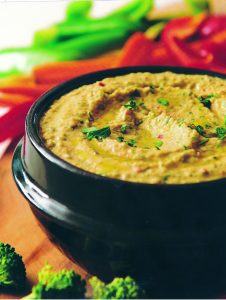 -1 19-ounce can chickpeas, drained and rinsed (preferably no-salt-added)
-3 to 4 cloves garlic
-1⁄2 green bell pepper, cut into chunks 1⁄2 red bell pepper, cut into chunks
-4 green onions (or 1 medium onion, cut into chunks)
-1⁄4 cup chopped fresh basil or Italian parsley
-2 tablespoons extra virgin olive oil
-2 tablespoons lemon juice (preferably fresh)
-2 to 3 tablespoons tahini Salt and freshly ground black pepper
-Chopped fresh parsley for garnish
1. Combine all ingredients except parsley in a food processor fitted with a steel blade. Process with quick on/offs to start, then let the motor run until the mixture is very smooth, about 2 minutes, scraping down the sides of the bowl as needed.
2. Transfer the hummus to a serving bowl and sprinkle with parsley. Cover and chill for 1 to 2 hours before serving. (Hummus will thicken when refrigerated.)
Note: The tahini in the hummus is a very nutrient-dense ingredient because it has a very low moisture content. It is an excellent source of mono- and polyunsaturated fats, which are good fats and an excellent source of protein, magnesium, zinc, manganese fiber, and potassium. Chickpeas are legumes that are also high in protein and fiber.