Roasts and hams certainly may get a lot of fanfare for holiday dining, but chicken is a versatile food that is mild enough to be molded into whatever flavor profile cooks desire. Chicken also can be dressed up so it easily competes with other protein sources for top billing on holiday tables.
Easily cooked on the stovetop in a flash, this recipe for "Almond Chicken With Peaches and Roquefort" from "125 Best Chicken Recipes" (Robert Rose) by Rose Murray can be customized and multiplied depending on the size of the crowd. While peaches may not be in season where you live during the holidays, simply substitute two small pears, which work well for fall and winter meals. Serve with crisp green beans and lemon couscous, which is easily made by adding 1/2 teaspoon grated lemon zest and 1 tablespoon fresh lemon juice to warm couscous.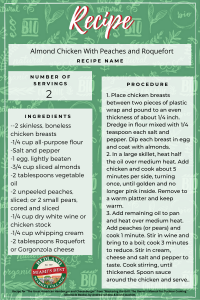 "Almond Chicken With Peaches and Roquefort"
(Serves 2)
-2 skinless, boneless chicken breasts
-1/4 cup all-purpose flour
-Salt and pepper
-1 egg, lightly beaten
-3/4 cup sliced almonds
-2 tablespoons vegetable oil
-2 unpeeled peaches, sliced; or 2 small pears, cored and sliced
-1/4 cup dry white wine or chicken stock
-1/4 cup whipping cream
-2 tablespoons Roquefort or Gorgonzola cheese
1. Place chicken breasts between two pieces of plastic wrap and pound to an even thickness of about 1/4 inch. Dredge in flour mixed with 1/4 teaspoon each salt and pepper. Dip each breast in egg and coat with almonds.
2. In a large skillet, heat half the oil over medium heat. Add chicken and cook about 5 minutes per side, turning once, until golden and no longer pink inside. Remove to a warm platter and keep warm.
3. Add remaining oil to pan and heat over medium heat. Add peaches (or pears) and cook 1 minute. Stir in wine and bring to a boil; cook 3 minutes to reduce. Stir in cream, cheese and salt and pepper to taste. Cook stirring, until thickened. Spoon sauce around the chicken and serve.