Smoothies are often associated with breakfast, but they actually can be enjoyed all day long.
Smoothies have been around since the 1920s when the first blender was invented by Stephen Poplawski. In 1939, the Waring blender company designed a pamphlet that came with the appliance that included fruit-based drinks.
Smoothies can include a variety of ingredients and serve various purposes. This recipe for a "Ginger Papaya Smoothie" from "Super Smoothies" (Crestline) by Ellen Brown employs ginger, which can help overcome nausea and other stomach issues.

Ginger Papaya Smoothie
Yields 4 1-cup servings
-1 cup chilled papaya nectar
-1 container (8 ounces) peach low-fat yogurt
-1/2 cup silken tofu
-1/4 cup whey protein powder
-3 tablespoons crystallized ginger
-2 cups papaya cubes, frozen
-4 papaya spears for garnish (optional)
1- Combine papaya nectar, yogurt, tofu, whey protein powder, and crystallized ginger in a blender or smoothie maker.
2- Blend on high speed for 45 seconds or until the mixture is puréed and smooth.
3- Add papaya cubes and blend on high speed again until the mixture is smooth.
4- Serve immediately garnished with papaya spears, if desired.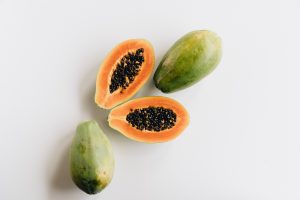 Tip: Crystallized ginger is fresh ginger that has been cooked in sugar syrup to render it both sweet and tender. It is usually then coated with sugar to prevent the slices from sticking together. To find crystallized ginger, look in the baking section of your supermarket rather than the produce aisle.