We all feel the pressure to deliver a beautiful and well-thought out gift for those we consider special on
Valentine's Day. It can become quiet overwhelming since finding the perfect present typically requires
hours online or driving all over the Miami/Dade area; after all, our loved one is unlike any other. Well,
look no further! At Redland Market Village we have over 27 acres of land, filled with goods from all over the world.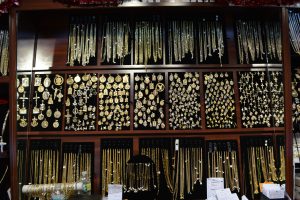 ---
Jewelry
Sparkles are a sure why to catch someone's eye. We have 7 (yes, seven), jewelry vendors with thousands of unique and beautiful pieces.
---
Electronics 
If electronics are more up their alley, we have everything from car audio and accessories to cd's to a full service electronics store.
---
Cooking for Two  
Nothing says romantic like cooking your other half a surprise candle lit dinner! Check out our Romantic Home-Cooked Valentine's Day Dinner blog for recipe ideas. Visit the Farmer's Market for fresh locally sourced produce and then swing by Kiosko Hermaras to pick up the candles.
---
Sentimental Gifts  
Perhaps, sentimental is more your gift-giving speed. Photos carry such vivid memories for us. Be it your grandparent's wedding photo, the birth pictures of your children or a random shot that shows your love in a way that an entire novel couldn't express; in that case, come to Marlin Continental Photographic. We can restore and reframe your beloved memories.
---
With ever-rotating stock there is always something new to discover at Redland. We can help you make
this the best Valentine's gift yet!