South Florida has a venerable tradition of flea markets, farmer's markets, and the cultivation of delicious produce. The Redland Flea/Farmer's Market is proud to have been a family-owned and operated part of that story since 1987. As a greenmarket, we do business directly with local farmers to bring fresh produce to you, without the expensive supermarket prices. We apply this to our fish market as well, with our stock coming from nearby sustainable fishing operations. Shopping locally with us will save you money and keep our community thriving.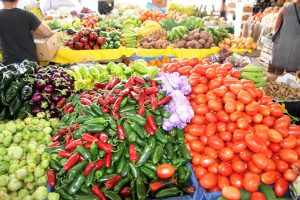 The weekend flea market draws a multitude of vendors with an ever-changing stock of goods, so you'll always have something new to discover. Whether you have a specific need, such as clothing, automotive parts, jewelry, shoes, or collectibles, or just enjoy browsing, our diverse stock has something to offer everyone. Get your car detailed or upgrade its audio systems at one of our automotive vendors. Collectors will enjoy hunting for the next prize for their displays of antiques, toys, or other curiosities. Save on shoes for you and your family, or get plants from our nursery to round out your home garden.
For fresh produce beyond what your home garden may provide, our farmer's market has fresh, seasonal fruits and vegetables. Our partnership with local farmers ensures that they have the opportunity to bring their sustainably-harvested produce from their fields to your table. Browse from generous selections of plantains, tomatoes, peppers, potatoes, and more. Round out your spice cabinet with our dried chilis, vibrant curries, and flavorful cinnamon. Taste the ocean's rich bounty at our fish market, stocked with the freshest catches from Floridian waters. Crabs, shrimp, mussels, and more rest on beds of ice, waiting to arrive at your kitchen. Unlike the supermarket, where a hungry appetite can prompt overspending, you can satisfy your hunger at our market without breaking your budget.
No trip to the flea market is complete without a cup of freshly-chopped fruit or a plate of cilantro-lime street tacos. Our restaurants fill the air with the aroma of grilled lamb, sizzling sausages with onion and pepper, and fried confections. Authentic Latin-American cuisine adds hearty, fulfilling dishes like huevos rancheros: fried eggs with red sauce, beans, rice, and corn tortillas. Or, try some ceviche: a seafood stew with fresh fish and shrimp. Go all out and treat yourself with our tampiquena: churrasco, skirt steak that's marinated in citrus and garlic and grilled, paired with rice beans, guacamole, and two enchiladas. Never has shopping tasted so good. Whether you want a fulfilling meal or a snack between vendors, we have what your hunger needs.
Stock your kitchen, eat well, and find something new every weekend at The Redland Flea/Farmer's Market: a family-run tradition since 1987. See you this weekend!