We'll have everything you need to prepare a feast fit for the 4th of July!! Enjoy helpful food vendors that are happy to help versus the less personable experience at a local grocery store.
Start with the go-to classics like:
Corn on the cob
Fresh Strawberries and Berries for desserts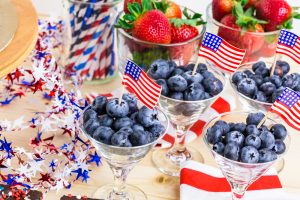 Pick up fresh fish to add variety to foods for grilling
============================================================================
We know that guacamole is a hit at every great celebration so we've provided a recipe with ingredients all available to purchase fresh at Redland Market Village Farmer's Market. Impress your friends & family with this spicy, delicious …
 …Firecracker Guacamole!
INGREDIENTS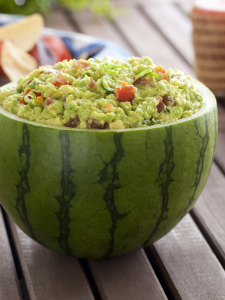 1 mini seedless watermelon

8 ripe, Fresh Avocados, peeled, seeded and coarsely mashed

1/4 cup minced green onions

2 tomatoes ripe, seeded and diced

4 habanero chiles, stemmed, seeded and minced (or less, to taste)

2 tbsp lemon juice

Salt and spices to taste. Check out our Spices stand to customize it
INSTRUCTIONS
1. Roll the watermelon to find the flattest side; place that side on bottom. Slice the top third of the watermelon off. Wrap and set aside. Hollow out the red watermelon from the remaining watermelon section; reserve fruit for another use. A rice paddle works well for this task. Make sure all of the red part of the watermelon is removed. Pat dry with paper towels, then sprinkle with salt. Place upside down on a rimmed tray lined with paper towels and refrigerate overnight.
2. For the guacamole, gently combine all ingredients in a medium serving bowl. Let sit for at least 10 minutes for the flavors to blend.
3. With paper towels, rub inside of watermelon bowl to remove salt and thoroughly dry. Fill with Firecracker Guacamole, serve and enjoy!
Recipe and photo courtesy of the California Avocado Commission. Copyright © 2016
Redland Market Village wishes you a happy, safe, fun 4th of July!! Don't forget you can depend on our convenient and affordable items all year long, for every holiday and special occasion!!